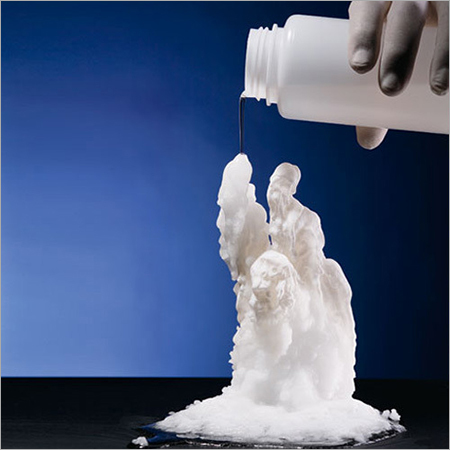 Sodium Acetate Trihydrate
Product Code : 01
Product Specifications
Molecular Weight

:

136.08 g/mol Grams (g)
Molecular Formula

:

C2H9NaO5
Chemical Name

:

Sodium Acetate Trihydrate
CAS No

:

6131-90-4
EINECS No

:

204-823-8
Product Description
Sodium Acetate Trihydrate is the trihydrate sodium salt of acetic acid, commonly used both industrially and in home chemical applications.

Specification :-

Chemical Names : Sodium Acetate Trihydrate, Acetic Acid, Plasmsfusin, Trihydrate, Thomaegelin, Sodium Salt
Grade : Certified ACS Grade
Molecular Formula : C2H9NaO5
Formula Weight : 136.08
CAS No : 6131-90-4
EINECS : 204-823-8
Flash Point : 250°C
Gravity : 1.45 g/ml
Solubility : Freely soluble in alcohol
Appearance : Colorless to white crystals or powder


Applications :-
Used for preparing gel stains for protein gel electrophoresis
Used for precipitation of nucleic acids.
In dialysis, this is used as a source of sodium ions in solutions.


Technical Key Points :-
| | | | |
| --- | --- | --- | --- |
| Test parameters | Standard specification | Observation | Result |
| Description | A White Hygroscopic Crystals | A White Hygroscopic Crystals | Passes the test |
| Assay (On dry Basis) | NLT 98-100% | 98.51% | Complied |
| Water | 36.0-41.0% | 39.8% | Complied |
| PH (5% Sol.) | 7.0 to 9 | 8.25 | Complied |
| Solubility | Soluble in water | Soluble in water | Passes the test |
| Insoluble Matter | Max.0.1% | 0.008% | Complied |
| Iron(Fe) | Max. 0.001%(10 PPM) | <0.001%(10 PPM) | Complied |
| Arsenic(As) | Max.0.0003%(3 PPM) | <0.0003% (3 PPM) | Complied |
| Lead(Pb) | Max.0.0002%(2 PPM) | <0.0002%(2 PPM) | Complied |
| Mercury(Hg) | Max.0.0001%(1 PPM) | <0.0001%(1 PPM) | Complied |
| Heavy metals (as Pb) | Max. 0.001%(10 ppm) | ≤(0.001%(10 ppm) | Complied |
| Alkalinity | Max.0.05% | <0.05% | Complied |