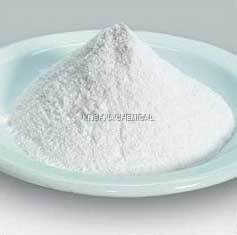 Zinc Acetate Power
Product Code : 557-34-6
Price And Quantity
Unit of Measure

:

,
Product Specifications
Product Name

:

Zinc Acetate
CAS No

:

557-34-6
Other Names

:

Acetic acid, Zinc salt,Acetic acid, Zinc(II) salt, Dicarbomethoxyzinc, Zinc diacetate
Product Description
Zinc Acetate Powder is a zinc salt of acetic acid with chemical formula of Zn(CH3CO2)2. It is commonly found in its dihydrate form but anhydrous form can also be availed. This chemical is widely used in synthesis of different chemicals and as food supplements for zinc. Offered compound also finds application in various industries for different purposes wood preservation, manufacturing other zinc salts, polymers, manufacture of ethyl acetate, as a dye mordant, and analytical reagent. Moreover, it can also be used in nuclear power plants as plant inhibitor. Offered Zinc Acetate Powder can be availed from us in different packaging volumes as per requirements and that too at reasonable rates.

With our wide industry experience in the domain, we are engrossed in manufacturing and supplying high grade Zinc Acetate. This chemical is used in numerous applications like medicines for treating cold, antacids, dust suppression, animal nutrition veterinary, detergents, etc. Also, we ensure our esteemed clients that offered chemical is free from any kind of impurities. Additionally, this Zinc Acetate Powder can be availed in varied packaging options as per the specific needs of clients.



Technical Specifications :-
IUPAC Name : zinc;diacetate
Linear Formula : (CH3CO2)2Zn
Molecular Weight : 183.48
EC Number : 209-170-2
MDL Number : MFCD00012454
PubChem Substance ID : 24863953
Assay : 99.99%
Appearance : White Crystalline Solids
Solubility : Soluble in dil mineral acids; Insoluble in alkalies
Density : 1.84 g/ml

Features :-

High effectiveness
Precise composition
Safe to use
High reactivity

Further Details :-
Minimum Order Quantity: 25 Kilogram(s)